A role defines which pages and processes an user is authorized to access and edit.
Creating a role
The roles are located at the Manage Environment page and are part of the professional plan. To create a new role follow the steps:
Access the Manage Environment page.
Scroll down to the "Role list" section.
Click on "Manage access profiles".
In the new page, click on "Add Role". This feature is only available in the professional plan.
Name the role using the "Role Name" Property. Complete the configuration using the instructions below and then confirm.
In the image below you can see all options when creating a new role: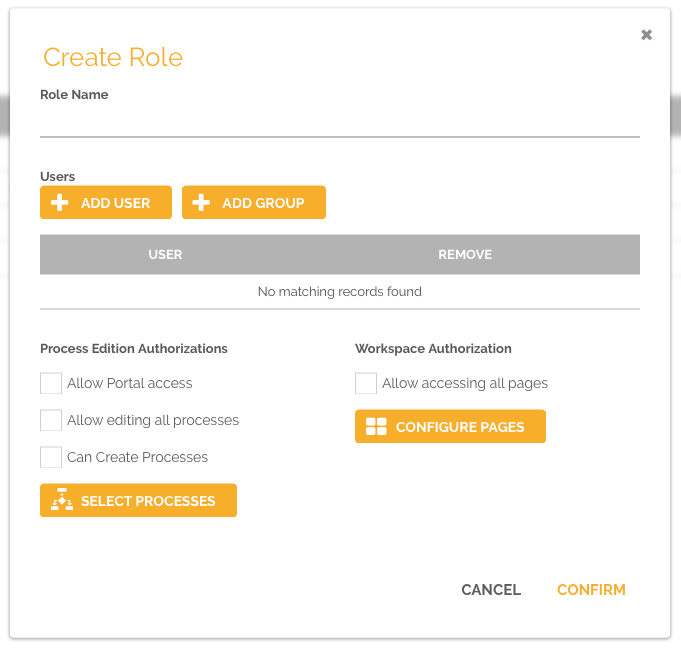 Users: this is a list of all the users with this role. To add a new user click on "Add User" and select an already invited user.
Workspace Authorization: defines which pages will be available to this role. If the "Allow acessing all pages" option is checked, then this role will allow access to all workspace pages except the Process Editor. If you want to limit pages access, then uncheck this options and use the "Configure Pages" button to define all pages this role has access to.
Process Edition Authorizations: defines permissions on process edition and viewing. The option "Allow portal access" authorizes access to the Portal features which enables the role to give feedback on processes. The option "Allow editing all processes" checked authorizes the edition of any process in the environment. On the other hand, if uncheck you have to click on "Select Processes" to define which processes this role can edit.
If there is any process edition restriction, there will also be restrictions on removing and creating new processes.
The roles "Admin", "User" and "Only portal" are native to HEFLO and can not be modified. Administrators have unlimited access to the environment and Users are not able to edit processes.
Managing users in roles
To include or remove users in a role just click on the "Edit" icon in the role record and then edit the user list.

You can also define an user role when inviting someone.